Do Rumble On motorcycles for sale come with benefits?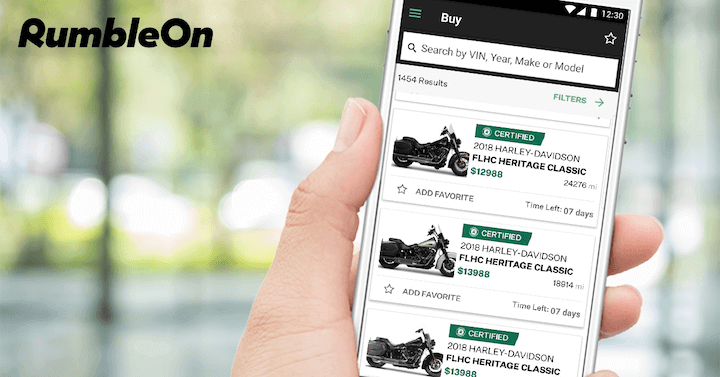 Looking for where to buy motorcycles? RumbleOn is the answer! As the best way to buy a used motorcycle, car, truck, or ATV online, you bet we have purchase benefits. And they are all included with every motorcycle for sale.
Browse the largest inventory of cheap motorcycles for sale online.
Rumble On sits apart from other places to buy a used motorcycle. One of the reasons is that, unlike listing sites with cheap motorcycles for sale, Rumble On's motorcycles for sale aren't owned and listed by independent users. Rumble On actually holds the most extensive inventory of used vehicles anywhere on the Internet.
So, if you are looking to buy used motorcycles, ATVs, cars, or trucks, you can browse Rumble On's inventory and find the perfect motorcycle for sale at a great price.
Buy a used motorcycle for sale and get free purchase confidence.
With every Rumble Ready motorcycle for sale in Rumble On's inventory, we provide assurance that you are getting what you paid for or your money back. Not 100% happy with your purchase? With our 3-Day, 150-Mile Money Back Guarantee, we will pick it up free of charge and refund your money. If you buy a motorcycle online using financing, once the motorcycle is back in our possession, we will cancel your loan with the lender.
Every motorcycle for sale comes with a Mechanical Guarantee.
Rumble On has cheap motorcycles for sale, and they automatically come with a 90-Day Rideability Guarantee. This guarantee provides It's 100% free coverage of mechanical issues. Whether you find an oil leak, loose chain, or battery issues within 90 days, it's all covered. Want more than 90 days of peace of mind? When you buy a used motorcycle, you can back it with extended coverage options which we also have available for purchase.
When you buy a motorcycle, we'll handle the hassle.
When you buy a used motorcycle for sale online, shipping and paperwork can be a hassle. That's why RumbleOn handles all of that for you! Not only will we ship the used motorcycle to your door for an affordable fee, but we will coordinate the logistics, process your sale paperwork, and handle any title work required. Just like that, you can go from finding a dream motorcycle for sale to making that dream a reality, all without leaving your house!
Ready to browse Rumble Ready used motorcycles for sale? Let's get you on your dream ride!