I need the best way to sell my motorcycle in Colorado.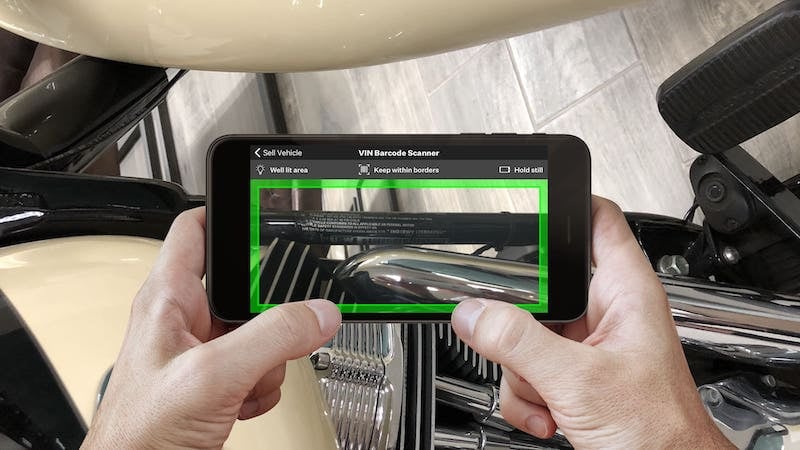 Whatever the reason may be that you need to sell a motorcycle in Colorado, the process might seem a bit daunting. Sure, you can sell a motorcycle online, but there is a lot of time required to monitor a listing and meet up with potential buyers adequately. You have to organize meetups with strangers, filter through possible scam emails, multiple texts, and calls at inconvenient times. Who has time for stuff like that?
That's why RumbleOn is here to make your life a lot easier. We take all the hassle out when you sell a motorcycle in Colorado, and what's left is a fast, simple process that gets you paid fast.
How does RumbleOn help me sell a motorcycle in Colorado?
First, you get a free cash offer to sell your motorcycle. To do this, upload your motorcycle's information and photos on our website or free smartphone app.

Then, we will send you a cash offer to buy it. This offer is real and guaranteed. That means, if you accept our offer, you will be paid this amount in full.

Then, all you have to do is decide if you accept our offer. If so, click the accept button in the cash offer we sent you to let us know, and we will continue with the sales process.
Your motorcycle stays in your possession until you are paid. Once we receive the needed paperwork, we will send your payment via electronic deposit to your account or FedEx. That's right. Only when you receive your payment will we come pick up your motorcycle at no cost to you.
What are the benefits of RumbleOn?
First of all, RumbleOn is a safe and secure alternative to meeting strangers off the Internet. When you agree to meet with a potential buyer on an open listing site such as Craigslist, you don't know if they are actually a scammer or a thief. Will they try to pass off a bad check or a counterfeit money order? There's no way to pre-screen those you are meeting up with, and you could be putting your safety at risk. RumbleOn is a fully accredited business, is publicly traded (RMBL) on the Nasdaq, and is part of the BBB. Exceptional customer service and security are at the top of our company mission so you can be sure that you are in good hands with RumbleOn.
Also, there are no costs or fees when you sell your motorcycle online to RumbleOn. We cover everything, including shipping, and we will handle all the paperwork as well. So, if you are looking for a way to sell your motorcycle fast in Colorado, RumbleOn is your answer! There is no cost, and you get fast payment. All you need to do is sit back and get paid!
Does RumbleOn work if I only want to sell my Harley? Or can I sell a motorcycle of any make?
That works, too! RumbleOn will buy any make or model of motorcycle. So, whether you want to sell a Harley, a Ducati, a Triumph, or a Suzuki, you can sell a motorcycle of any make or model!
If you're ready to get started, let's start with a free cash offer for your motorcycle!
Real cash offers in 15 minutes or less!