I need a way to sell my motorcycle in New Hampshire!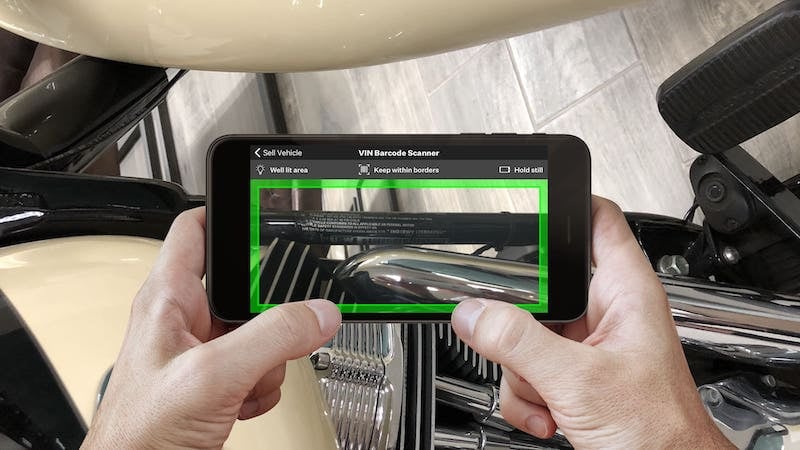 RumbleOn is a fast and easy way to sell your motorcycle!
There are many reasons you may need to sell your motorcycle fast, maybe you want to buy a new one, or you need the cash quick. Whatever your reason may be, it's always a hassle to sell a motorcycle in New Hampshire through a peer-to-peer transaction.
There is an easier way, and you can save time, money and stress by working with RumbleOn. When you sell a motorcycle on CycleTrader or Craigslist, it's a hassle. RumbleOn is the easiest and fastest way to sell a Harley or motorcycle online.
Why should I sell my Harley to RumbleOn?
The biggest benefit of working with RumbleOn to sell a motorcycle in New Hampshire is that the RumbleOn process is safe and secure. When you use sites like Craigslist to sell a motorcycle online, you are putting your security and safety at risk. Not only do you have to spend your valuable time meeting up with strangers, but you don't know if they could potentially be a scammer. Will they try to pass off a bad check or a forged money order? There's no way to pre-screen your potential buyers, and that's frustrating.
RumbleOn is the most cost-effective and safest way to sell a motorcycle online. Period. RumbleOn is part of the BBB and is a publicly traded company (RMBL) on the Nasdaq, so we aim to be fully transparent and secure as a fundamental part of our business model. We vow to make sure you are in good hands no matter what.
Working with RumbleOn to sell your motorcycle also means you won't have to front any payments for advertising costs or listing fees. RumbleOn takes care of everything. We handle the paperwork, pick up your motorcycle for free, and there aren't any hidden fees to worry about. All you need to do is sit back and get paid.
Speaking of payment, one of the best parts of working with RumbleOn is that your motorcycle stays in your garage until you get paid. Once RumbleOn receives your paperwork, we will send your payment via FedEx or directly deposit it into your account. Once you get paid, RumbleOn will come pick up the motorcycle at no cost to you.
How RumbleOn works to sell your motorcycle:
RumbleOn makes it easy to sell a motorcycle online:
Upload your bike's information into the RumbleOn App or online to receive a free cash offer.

We will send you a guaranteed cash offer. This usually takes 15 minutes or less.

If you choose to accept the cash offer, simply click the accept button to let your RumbleOn Representative know, and they will begin the sales process.
If you need to sell your motorcycle fast in New Hampshire, or if you need a fast payment, RumbleOn is the best solution. Not only do you save time and effort when you sell your motorcycle , but you save money and can get paid on the same day* in some cases. If you want to read more about RumbleOn and the process to sell a motorcycle fast online, let's go!
*Payments are sent the same day we receive the proper paperwork from you.
Real cash offers in 15 minutes or less!