Is it easy to sell my car in Minnesota with RumbleOn?
Attention, Minnesota: It's easy to sell a car with RumbleOn. We'll give you cash for your vehicle when you sell your car to us. Worried about fees? Don't be! When you choose to do business online with us, not only do we eliminate the hassle, we eliminate the expense, too. Sell us any make or model of car, we provide free pick-up of the vehicle and fast payment.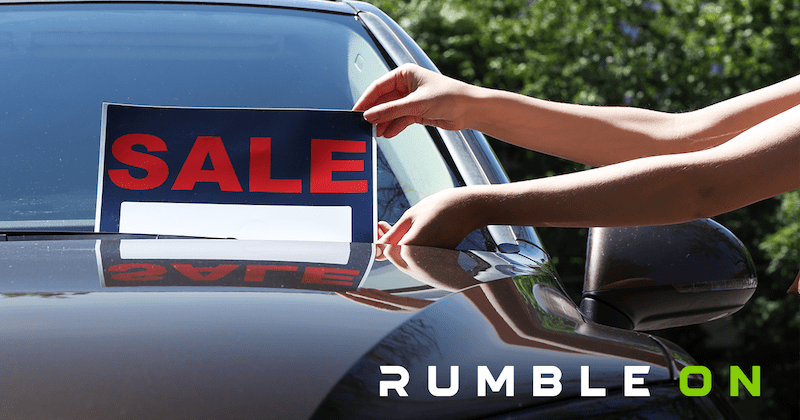 I want to sell my car in Minnesota fast. Can you help?
You bet we can. It's RumbleOn's mission to help you sell a car using our 100% online process. We eliminate listing and advertising fees, effectively taking out all the headache of trying to sell your car online. We also offer free pick-up of your car.
How do I sell my car fast to RumbleOn?
We're fully transparent with customers who want to sell a car for cash. We don't have any tricks or gimmicks hidden up our sleeves, and the steps are easy. To sell a car,
Upload photos of your car, and other necessary information, to RumbleOn's website. If you'd like, you can use one of our free car-selling apps for iOS and Android to secure your cash offer.
A RumbleOn Expert will send you a guaranteed free cash offer within 15 minutes based on your car's live-market value. If you decide to accept your offer, RumbleOn will guide you through the remaining steps.
You'll receive your cash offer amount in full (less any lien payoff) once we've received and processed all the required forms.
If I use RumbleOn to sell my car for cash, when can I expect to get paid?
Payments are sent quickly: usually the same day we receive the required paperwork from you. Payment is fast and will be sent to you via FedEx or by direct deposit into the account you choose. Even if you still owe a balance on your car, we'll pay it off and send you the difference. As long as it has a VIN, getting cash for your car will be fast and easy with RumbleOn!
Is it safe to sell my car for cash to RumbleOn?
We take safety very seriously. RumbleOn guarantees a safe and secure method to sell a car for cash online. We value our customers and aim to be fully transparent with everyone who does business with us. Still not satisfied? Our business is fully accredited and publicly traded (RMBL) on the NASDAQ; we're even featured on the Better Business Bureau (BBB) website. If you want more resources and tips to help sell a car, check out our Pit Stop auto blog.
Ready to sell a car the easy way? Get started today.
Real cash offers in 15 minutes or less!