Help me sell a car in Wyoming!
Once you decide to sell a car to us, RumbleOn is here to help in any way we can. Forget about dishonest third parties who want to waste your time with ridiculous, low-ball offers; that doesn't happen at RumbleOn. In fact, our Specialists work hard to make sure you're satisfied by using live-market technology and your VIN to determine a legitimate cash offer amount, and you have 5 days to accept and sell a car for cash!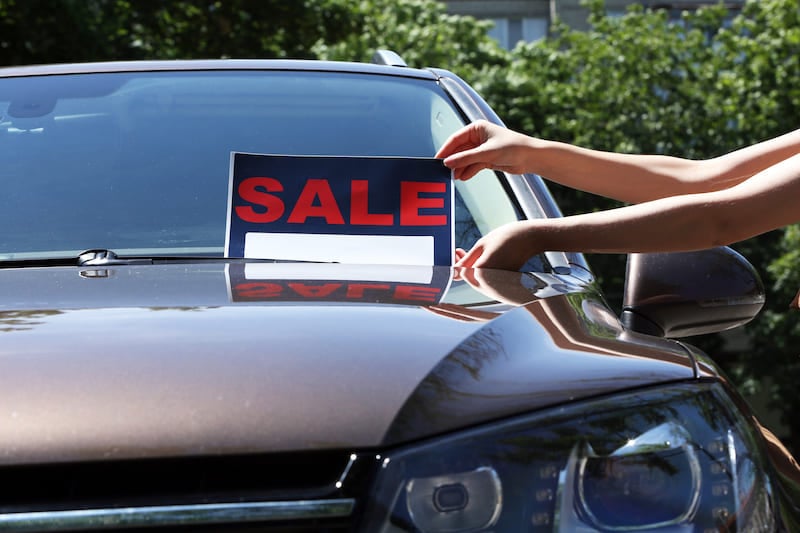 Is RumbleOn the fastest way to sell my car in Wyoming?
RumbleOn is the fastest way to sell a car anywhere in the U.S., yes. We are a 100% online marketplace for all motorcycles, powersports, cars, and trucks, and it's our mission to make it easy for consumers to buy, sell, trade, and finance used vehicles of all kinds. We eliminate the hassle of going to the dealership by bringing it straight to your device! Sell a car from your couch in minutes, it's that simple!
Are there benefits if I sell my car for cash to RumbleOn?
You bet there are benefits. At RumbleOn, we set ourselves apart from other public listing sites by guaranteeing a 100% safe and secure business transaction. We are also fully accredited and publicly traded (RMBL) on the NASDAQ. That means, when you're trying to sell a car fast, you can sell with complete confidence that RumbleOn won't take advantage of your or your business.
Plus, we offer free pick-up of your unwanted vehicle, thereby eliminating a big part of the hassle most sellers face when they try to sell a car for cash.
Here's how to sell a car fast in Wyoming:
Start by uploading at least six photos of your ride on our simple cash offer tool. Other details you can provide are your vehicle's VIN. Would you believe you can do this all from your couch?
Take it easy while our trusted RumbleOn Specialists put together the best cash offer for your vehicle. It should only take about 15 minutes, but be sure to check your spam folder if it doesn't appear in your inbox!
Accept your RumbleOn Cash Offer and get paid. You'll get paid fast and in full (less there's any lien payoff) by either FedEx or to the bank account of your choosing. It's that easy!
How long does it take to get paid after I sell my car?
After you sell your car to us, you can expect payment almost immediately. We just need all the necessary paperwork, first, and after that, it's smooth sailing after everything is said and done. We'll send payment via either FedEx or by direct deposit to the bank account of your choosing. And if you have a loan on your old car, RumbleOn will pay off the remaining balance using a portion of your cash offer. We'll send you the rest in no time!
I'm ready to sell my car for cash now!
Perfect! We'll take care of everything for you once you've accepted your offer! Headache and hassle don't exist at RumbleOn, and we don't discriminate when it comes to vehicle type, either. We will buy any make and model of car as long as it has a VIN and legitimate state title. No matter what, you are guaranteed a free, no-obligation cash offer, so get started now!
Real cash offers in 15 minutes or less!