What is the best way to sell my motorcycle in North Dakota?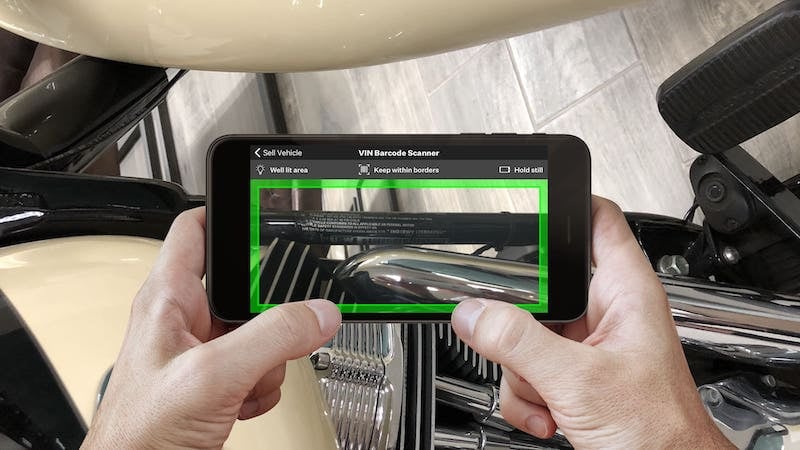 There are many reasons you may need to sell your motorcycle in North Dakota, and, while there are many ways you can do it, not every method is created equal. Some listing sites such as Craigslist are popular ways to sell motorcycles, but it doesn't come without its own inconveniences. When you sell a motorcycle on Craigslist, you have to set aside your own time to arrange meetings and monitor your listing. Some sites require payment of listing fees and advertising costs, it can be time-consuming and expensive.
Luckily, there's RumbleOn: a 100% online company that makes it easy to sell your motorcycle in North Dakota. There's no hassle, and you get fast payment, sometimes as fast as the same day*!
What is RumbleOn and will it help me sell my motorcycle?
RumbleOn is the newest way to sell a motorcycle online without any of the hassle or hurdles you run into through traditional means. Your motorcycle stays in your garage until you are paid, and once you receive payment, RumbleOn will pick it up for free.
Once we receive your paperwork we need, we will process your payment and send it via FedEx or electronic deposit in your bank account. Payments process quickly, and sometimes you can get paid as soon as the same day*. Only when you get paid will we come pick up the motorcycle at no cost to you. How much easier could it be to sell a motorcycle in North Dakota? There's no paperwork involved, either. We really do handle all of it, from start to finish, all you need to do is sit back and get paid.
RumbleOn is also a safe and secure way to sell a motorcycle online, and you don't have to put yourself at risk. When you sell a motorcycle on Craigslist, you often have to meet up with strangers, and you don't know whether or not they are legit buyers or are scammers. What if they try to pass off a bad check? What if they have a counterfeit money order? RumbleOn is a publicly traded company and a part of the BBB. We are a fully accredited business, and strive to excel in customer service by remaining fully transparent in the whole process from start to finish. You are in good, safe hands with RumbleOn, we guarantee it.
How do I sell my motorcycle to RumbleOn?
First, get a free cash offer for your motorcycle by submitting its information on our website or our free smartphone app.

We will send you a free cash offer to buy it. This is done quickly, usually within an hour or less in most cases.

If you accept our offer, just let us know, and we will finish the sale process.
That's it! That's really all it takes to sell a motorcycle in North Dakota the fast and easy way. Do you want to sell your motorcycle fast and be done with it? RumbleOn can give you fast payment without the hassle!
*Payments are sent the same day as we receive the proper paperwork from you.
Can I sell a motorcycle of any brand, or can I only sell my Harley?
RumbleOn will buy any type of motorcycle, ATV, or powersport vehicle no matter the make or model. So, whether you want to sell a Harley, Kawasaki, Yamaha, or Triumph, RumbleOn has got you covered. See what it's all about and get your cash offer now!
Real cash offers in 15 minutes or less!